Faith Woney joined Seedco's Youth Advancing in the Workplace program in 2016, and is one of our many alumni success stories! Seedco helped place Faith in a job at Ovenly, a Brooklyn-based bakery, where she has since been promoted and continues to be an invaluable team member.
Faith was invited to speak at the New York City Mayor's Office 'Best for NYC' event at the High Line on September 25, 2018.  Faith spoke beautifully about her experience and career path, and shared the stage with leaders in government, philanthropy and business including New York City Deputy Mayor Phil Thompson.
Check out the photos below and see all the photos from the event here!
Faith is also featured on the Best for NYC website, sharing her experience working at Ovenly. Faith shares that:
"Working with Ovenly is different because they want their employees to have the knowledge of what the business is about and they want to make the environment safe both in the work space and outside their walls. Ovenly is an Eco-Friendly business that is strict about recycling and composting. Employers I've worked with before didn't care at all and that caused the employees to have a "I don't care" attitude. Nobody wants to work for a business that only cares about themselves and not the people around them, you lose customers, clients and employees that way. Working for Ovenly has opened plenty of doors for me and shows me that my hard work isn't going unnoticed. Never having to doubt the people that I work for makes all the difference."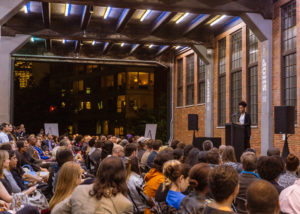 Faith speaks to the crowd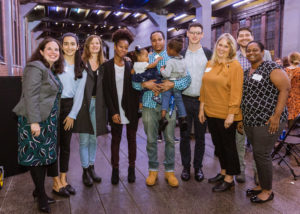 Faith and her family, along with Agatha Kulaga, the co-founder of Ovenly, and members of the Seedco team